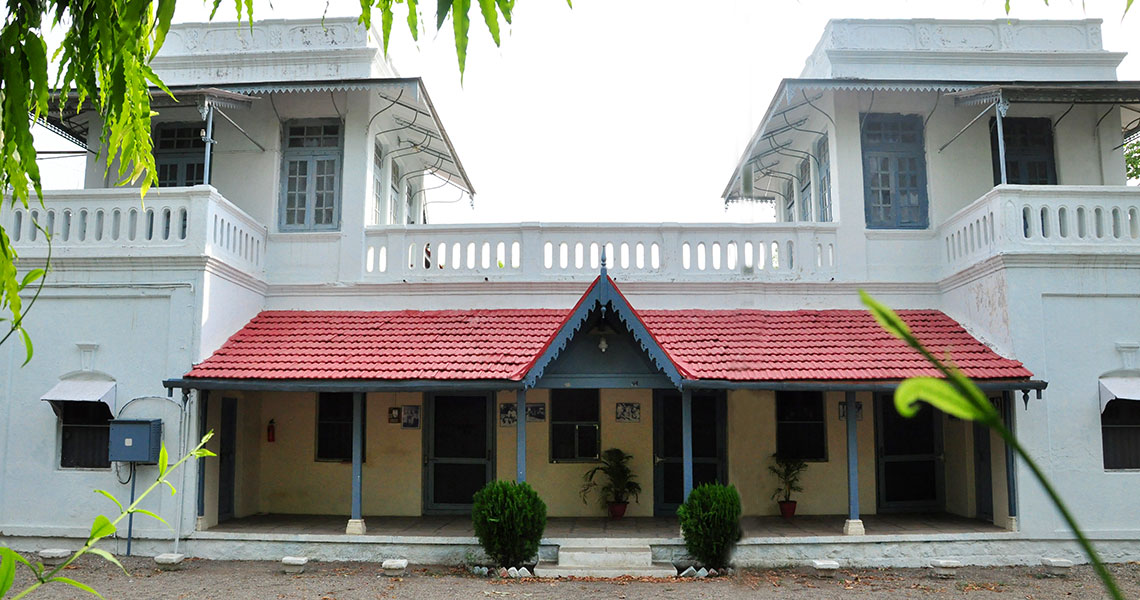 Wardha - Historic and Inspiring
Awardees' visit to Wardha
An insight on Wardha's significance to India's freedom movement, involvement of Jamnalal Bajaj, vision of the Jamnalal Bajaj Foundation and involvement of Bajaj family and much more is presented to our Awardees during a two day visit to Wardha.
Bajaj Wadi, Sevagram Ashram, Paunar Ashram, Fujii Guruji Memorial Trust, Buddha Vihar and Vishwa Shanti Stupa, Gitai Mandir, Exhibition of Shri Jamnalal Bajaj and Acharya Vinoba Bhave, Gandhi Gyan Mandir and Bajaj Science Education Centre, Jankidevi Bajaj College of Science, Bajaj Institute of Technology and Laxminarayan Mandir. These are some of the landmarks where the Awardees walk the talk.
Background on Wardha
Wardha district is located on the north-eastern side of the State of Maharashtra. Mahatma Gandhi led the freedom movement from Sevagram, Wardha, as its main centre. The freedom movement gained momentum with the involvement of Jamnalal Bajaj in Wardha. He combined in his personality the roles of a constructive worker, social reformer, political leader, freedom fighter, industrialist and founder of the Bajaj Group. Jamnalal Bajaj was accepted by Mahatma Gandhi as his fifth son and became the alter ego of the Mahatma for all constructive programmes.
Also eminent personalities like Ashadevi Aryanayakam, Manohar Diwan, Dada Dharmadhikari, Shriman Narayan, Kakasaheb Kalelkar, Shrikrishnadas Jajoo, E. W. Aryanayakam, Kishorlal Mashruwala, Shantabai Raniwala, Mahadevbhai Desai and J. C. Kumarappa were associates of Gandhiji in Wardha, who contributed significantly to give shape and actualize the activities of Gandhian constructive programmes.
Jamnalal Bajaj sowed the seeds of tradition of moral and cultural values in the hearts and minds of the people of Wardha, in particular, and country at large. Bajaj family's bonding with Wardha and its people contributed to a new direction and dimension to the country's struggle for freedom. He worked with total commitment especially in the areas of self realization, self-reliance, girl education, gender equality, khadi and goseva (service for the welfare of the cows). That is why Gandhiji wrote shortly after Jamnalalji's demise in 1942. "You are aware that how intimate was the relationship between Jamnalal and myself. There was no work of mine which I did not receive his fullest co-operation in body, mind and wealth. Neither he nor I had any attraction for what is called politics. He was drawn into it because I was in it. My real politics was constructive work, and so too was his".
The memory of Jamnalal Bajaj and his wife Jankidevi Bajaj and their unique contribution for the national cause and constructive programmes is deeply cherished by the people of Wardha, and indeed the whole country.
Jankidevi Bajaj was not only a spiritual partner and dedicated wife of Jamnalal Bajaj, but also a committed social worker in her own right. In the post independent period, she undertook padyatras with Vinoba Bhave and was actively involved in the movements for Bhoodan (Land Gift), Koopdan (Gift of Well), Gram Seva (Village Service) and Goseva (Service of the Cows). In recognition of her lifelong work, the Government of India honoured Jankideviji with the Padma Vibhushan in 1956.
Following his footsteps, his sons, Kamalnayan Bajaj and Ramkrishna Bajaj devoted their time, resources and energy for spreading and promoting Gandhian programmes and activities and practiced business ethics and high moral values. The legacy and philanthropic activities were carried forward under the stewardship of Rahul Bajaj. After his demise in February, 2022 the reins were handed over to his brother Shekhar Bajaj, who is also supported by his younger brothers Madhur Bajaj and Niraj Bajaj alongwith other members of the family in all the activities.
To date, Bajaj family and the people of Wardha are committed to spread and promote ideals of Mahatma Gandhi and Jamnalal Bajaj by initiating various constructive works to empower the people of India. All these are being carried out through various institutions, charitable organisations and trusts in Wardha, which are supported mainly by the Bajajs.
For more information on Wardha, please visit the Jamnalal Bajaj Foundation website.