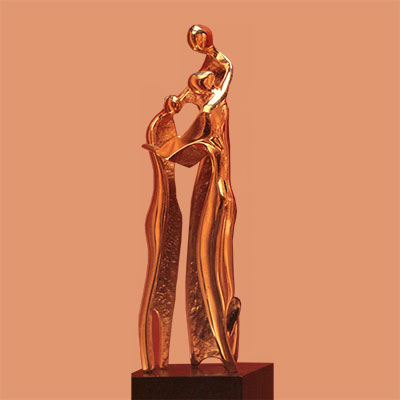 This award was instituted in 1980, in the memory of Mrs. Jankidevi Bajaj. It comprises a cash Award of Rs. 10,00,000, a trophy and citation to be given annually to a woman/women for outstanding contribution to development and welfare of women and children and/or on Gandhian lines. Development and welfare of women and children may cover any one or more of the following activities:
Education and eradication of illiteracy, vocational training, employment and rehabilitation of women and children.
Free or low cost medical care facilities for women and children, pre-natal and post-natal care, education for better health and hygiene, better nutrition for children.
Rehabilitation of vulnerable children, work in slums.
Free or low cost legal aid to women in distress, creating general awareness among women about their rights and the laws pertaining thereto, reforms for enhancing the social status of women.
Care, education and rehabilitation of the mentally retarded and the physically challenged (including spastics, slow learners) and dyslexic children and so on.
Life skills, family planning, education.
Scientific research and its application in the fields stated above.
(The list given above is only illustrative and not exhaustive.)
Rules for sending Nominations for the Award for Development and Welfare of Women and Children
This Award is for woman/women and not for an institution.
Women of foreign origin, who have resided in India and worked for a minimum period of 15 years in the areas of development and welfare of women and children in India, can apply for this award; however, it is mandatory for the women to have held a status of Indian citizenship.
Nominations received from the heads of recognized institutions and other representative bodies and/or from eminent individuals as also those sent by any of them on their own initiative, will be considered for the Awards. The term 'Institutions and other representative bodies' covers Universities, Research Bodies, Social Welfare Institutions, Khadi and Village Industries Organizations, Chambers of Commerce, Rotary, Inner Wheel and Lions Clubs, concerned Government Departments of the Centre and the States and similar bodies. The heads of these institutions or bodies-Vice-Chancellors, Presidents, Secretaries and others may send their recommendations in their individual capacity also.
Nominations recommended by relatives and/or by the office bearers/members of the organization of the nominee will not be considered.
Self-nominations will not be entertained.
The recommender/s should send factual information about the overall work pertaining to the nominees on the basis of the stated criteria.
Nominations in respect of any woman who has been the recipient of any of these Awards in the past will not be entertained.
The Foundation may defer or withhold conferring of the Award in any year if, in the opinion of the Council of Advisers of the Foundation, no nominee/s is/are found suitable for receiving such Award/Awards.
Criteria For Evaluation
In assessing the merits of women recommended for this Award, the overall impact and the spread of their work on Gandhian lines and the specific benefits accruing there from to women and children, will be taken into account. In particular, the following will be considered: In what way and to what extent:
The mentally, physically and sexually abused, neglected, deserted, exploited, ailing women and widows, especially from rural and tribal areas.
The uncared for, discarded, destitute and exploited children, including orphans and juvenile children in conflict with law, especially from rural areas.
Preference will be given to those individuals who have been doing their work through an institutional set up, have fostered the spirit of team work and have developed a second line of leadership to ensure stability and continuity of the activities/projects undertaken by them.