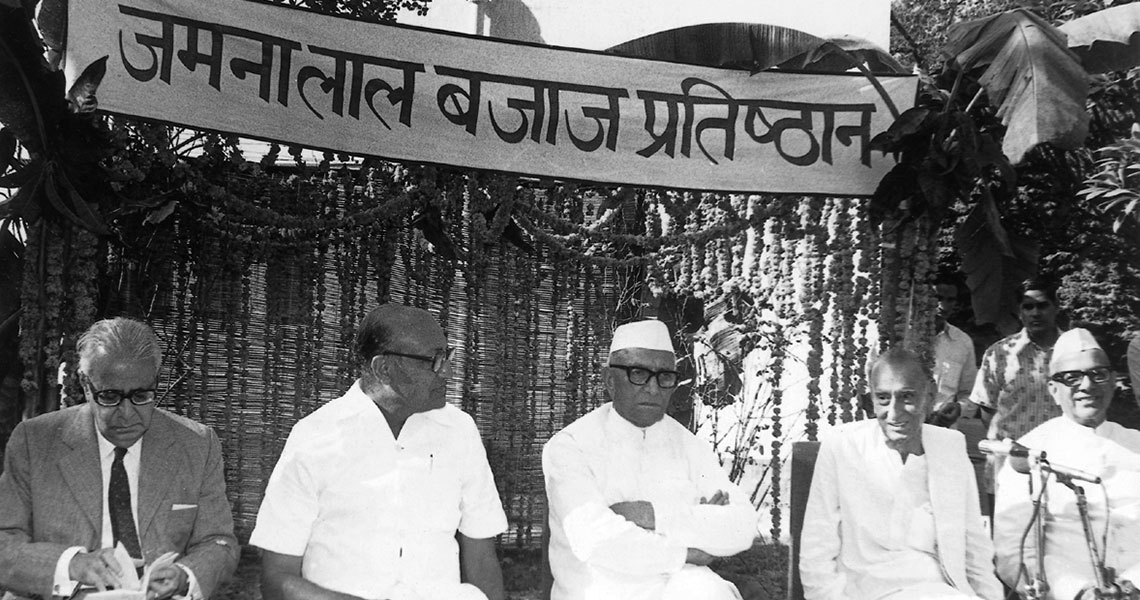 The Jamnalal Bajaj Foundation was established in 1977, in the memory of Shri Jamnalal Bajaj. He was a close associate and adopted fifth son of Mahatma Gandhi. The Foundation was inaugurated on 4th November, 1977 by Shri Morarji Desai, Hon'ble Prime Minister of India. It was a time for remembering the past with fondness and nostalgia for our former Hon'ble Prime Minister, who blessed the Foundation for what it set out to do for spreading philanthropic vision and services alongwith promoting Gandhian philosophy and constructive work programmes.
The Foundation has been respected as a Gandhian establishment in areas of developing the socio economic arena in our country. It strives to serve the ideals of Shri Jamnalal Bajaj and promotes Gandhian constructive activities in India and abroad. Shri Jamnalal Bajaj was the alter ego of the Mahatma so far as the Gandhian Constructive Movement was concerned.
For seventeen fruitful years, Shri Ramkrishna Bajaj, the younger son of Shri Jamnalalji, was the leading light of the Foundation. After his passing away, the Foundation found an able successor in Shri Rahul Bajaj who took charge as its Chairman. From 1994 till February, 2022 the Foundation's activities were nurtured under the dynamic leadership of Shri Rahul Bajaj, along with a competent Board of Trustees. After the demise of Shri Rahul Bajaj, the Foundation handed over the reins to its new Chairman Shri Shekhar Bajaj, elder son of Shri Ramkrishna Bajaj, to take forward the legacy.
The relevance of Shri Jamnalal Bajaj's principles and practices has grown over time. His vision has stood over time and as a beacon for generation that followed. Focusing on these very practices and to encourage and recognize the outstanding contributions of the people who have worked unstintingly in the interest of the nation and its people, the four awards were instituted by the Foundation.
The Jamnalal Bajaj annual awards have gained unparalleled significance in its efforts to honour the exemplary achievers who have made noteworthy contributions to the society at the grassroots level following Gandhian constructive work programme.
The Jamnalal Bajaj Foundation is also committed to the rural development activities, especially in Wardha district. In addition, the Foundation significantly supports several rural and certain urban development projects for the poor section of the society with emphasis on education, healthcare, sanitation, water management, environment protection, art and cultural restoration and promotion etc. which are carried out especially in Maharashtra, Rajasthan as also many other regions across the country.
For more information on the Foundation's objectives and activities, please visit the Jamnalal Bajaj Foundation website.