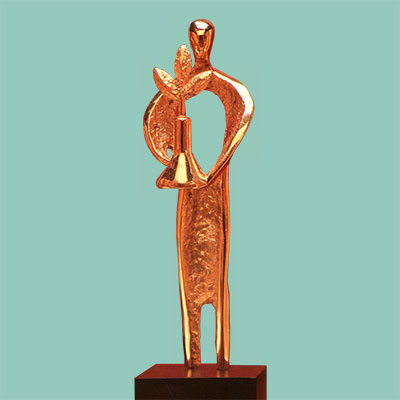 This Award was instituted in 1978; and comprises of cash award of Rs. 10,00,000, a trophy and citation to be given annually to an individual / individuals for outstanding contribution in the field of application of science and technology for rural and tribal development, particularly for the benefit of the weaker sections of the society.
Application of science and technology for rural/tribal development may cover any one or more of the following fields/areas:
Agriculture: improvement in land use, reclamation of waste land and schemes of land shaping, multiple and new cropping patterns, improvement in techniques of cultivation, seeds, agricultural tools and marketing facilities and methods, Post-harvest technology, agro-based industries to prevent migration.
Animal Husbandry: improvement in livestock, Dairy; improvement in fodder supply, development of new fodder, development of poultry, fish culture etc.
Rural / Tribal and Cottage Industries: rural/tribal engineering.
Afforestation for Better Environment: improvement in ecology through other measures.
Health: supply of pure drinking water, initiation and improvement in sanitary facilities, low cost balanced diet.
Water: minor irrigation, water management including storage and conservation coupled with equitable distribution systems, repair and maintenance of water supply systems.
Energy: development of practical application of renewable sources like solar, wind and water power, gobar-gas, introduction of improved/smokeless chulhas.
Rural Housing: designing, constructing and fabricating cheap and affordable houses in rural/tribal areas with emphasis on use of locally available material and use of local labour.
Improvement in village roads, transport and communication systems.
Rural Education on Gandhian Values: Improvement in communication systems, Computer technology, literacy campaigns, improvement in attendance, reduction of drop-outs, etc.
The application of science and technology may embody the use of alternative renewable sources of energy and of local resources, materials and human skills, and it should be within the means of the local population.(The list given above is only illustrative and not exhaustive. Areas of current national importance and priorities and also those activities which result in greater employment and income generation in rural areas may be given preference in selection.)
Rules for sending Nominations for the Award for Application of Science and Technology for Rural Development
This Award is for individual /individuals and not for institution.
Nominations received from the heads of recognized institutions and other representative bodies and/or from eminent individuals as also those sent by any of them on their own initiative, will be considered for the Awards. The term 'Institutions and other representative bodies' covers Universities, Research Bodies, Social Welfare Institutions, Khadi and Village Industries Organizations, Chambers of Commerce, Rotary, Inner Wheel and Lions Clubs, concerned Government Departments of the Centre and the States and similar bodies. The heads of these institutions or bodies-Vice-Chancellors, Presidents, Secretaries and others may send their recommendations in their individual capacity also.
Nominations recommended by relatives and/or by the office bearers/members of the organization of the nominee will not be considered.
Self-nominations will not be entertained.
The sponsors should send factual information about the overall work pertaining to the nominees on the basis of the stated criteria.
Nominations in respect of any individual who has been the recipient of any of these Awards in the past will not be entertained.
The Foundation may defer or withhold conferring of the Award in any year if, in the opinion of the Council of Advisers of the Foundation, no nominee/s is/are found suitable for receiving such Award/Awards.
Criteria For Evaluation
In assessing the merits of individuals for the above Award, the overall impact and the spread of their work on Gandhian lines and the specific benefits accruing there from to the people, will be taken into account. In particular, the following will be considered: In what way and to what extent:
The work done has helped the weaker sections of society including landless labour migrant labour, slum dwellers, dalits and tribes etc.
It has promoted increased productivity without displacing labour
It has led to fuller employment
It has brought about more equitable distribution and social equality
It has motivated people towards self-help and self-reliance
It has provided training facilities for workers
It has removed drudgery and has helped in improvement of the quality of life of the people
It has encouraged participation of people/NGOs/other Government and Non-Government organizations
The vision and plan of action, if any, for the future is in place
Preference will be given to those individuals who have been doing their work through an institutional set up, have fostered the spirit of team work and have developed a second line of leadership to ensure stability and continuity of the activities/projects undertaken by them.